First troop in 2011, and yet another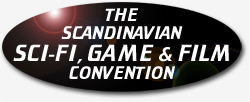 This time in Malmö 2.-3. of April.
About 20 troopers a few Rebels and 6 supporters. Same standard photostand. This time around we had a drawing contest, where we drew prizes at random.
Had two parades each day, other than that just loafing around patrolling the convention floor.
Troopers with support:
There was a few famous guests at this one, these three were the ones I'd like to meet the most (and knew who was really):
Richard Bonehill, stunt man and a lot of different troopers in Star Wars.
Michael Winslow from the Police Academy.
And last, but not least Billy Dee Williams. Lando Calrissian from Star Wars and Mayor of Gotham.
I met them up close and "personal" aswell.
Richard Bonehill and me.
Michael Winslow and me. He was really fun guy, told him I was a sergeant and he began saluting me and when I told him I hoped to start at the Police Academy he wished me good luck and all the best. Great guy!
Janne brought along his Chewbacca costume. Plain and simple awesome. And a crowd magnet!
So I had to try it! (Janne was exhausted and really warm from using it, and since were the same height, why not?! I'm not complaining!)
Then Boba Fett came along and destroied the mood, had to put him in place.
Ole Petter and I had been working on some other costumes aswell (mostly Ole Petter though), namley Ghostbuster costumes. We finished it the night before the con.
First two members in
Ghostbusters Norway
. Then later Lisa had her costume made, and mine stolen. Not redone it yet.
Good troop, and kudos to Magnus who spent a long time taking the bus down and supported us during the weekend. He usually takes a lot of photo's at troops he supports and put them up on his webpage,
magnusaga.com.
Later!
MTFBWY!